Biographies of Scholars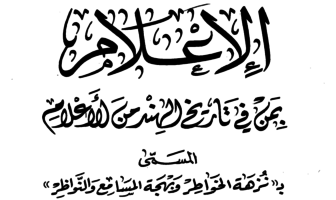 The shaykh, the imam, the hadith-scholar, the transmitter, Abu Sulayman Ishaq ibn Muhammad Afdal ibn Ahmad ibn Muhammad ibn Isma'il ibn Mansur ibn Ahmad ibn Muhammad ibn Qiwam al-Din al-'Umari al-Dihlawi, the migrant to the blessed [city of] Makkah, buried therein. He was the grandson of Shaykh 'Abd al-'Aziz ibn Wali Allah al-'Umari al-Dihlawi.
He was born on the 8th of Dhu l-Hijjah in the year 1196 H – and it was said 1197 H – in Delhi, and he grew up in the cradle of his aforementioned maternal grandfather. He read Sarf and Nahw up to al-Kafiyah by Ibn al-Hajib under Shaykh 'Abd al-Hayy ibn Hibat Allah al-Burhanawi, and he took fiqh from him. He took hadith and then acquired a sanad from the aforementioned Shaykh 'Abd al-'Aziz, and he was like a son to him. The aforementioned shaykh appointed him his successor and bequeathed to him all that he had of books and lands. Thus, he sat after him in his seat and instructed the people with the best of instruction. He travelled to the two noble Harams in the year 1240 H, and performed Hajj and Ziyarah. He acquired sanad in hadith from Shaykh 'Umar ibn 'Abd al-Karim ibn 'Abd al-Rasul al-Makki (d. 1247 H). Then he returned to India and he taught in the city of Delhi for sixteen months, and then he migrated to the illuminated [city of] Makkah with his brother Ya'qub and all his family in the year 1258 H. He chose residence at Makkah after performing Hajj and Ziyarah a second time. Sharif Muhammad ibn Nasir al-Hazimi took from him in the glorified [city of] Makkah.